Shopping Cart
Your Cart is Empty
There was an error with PayPal
Click here to try again
Thank you for your business!
You should be receiving an order confirmation from Paypal shortly.
Exit Shopping Cart
| | |
| --- | --- |
| Posted on October 31, 2016 at 7:10 AM | |
Trident World Cup Report
On Monday 10th October, Mr Miley VI degree led his team from the Trident Taekwon-do Group off to Budapest for the ITF World Cup.  The World Cup is a massive event with 1800 competitors taking part from 57 countries.  11 students from the Trident Group were due to compete throughout the course of the competition, with a mix of ages and grades; Mr Phil Mottershead III degree, Mr Simon Hynes III degree, Miss Izzy Brider III degree, Miss Anna Reed II degree, Miss Sarah Elliott II degree, Miss Romy Mottershead II degree, Miss Rebecca Dean I degree, Miss Lily Thompson I degree, Mr Aysin Dervish I degree, Sonia Thompson red belt and Havva Dervish red belt. Our very own Mr Jeff Brider IV degree was also umpiring during the tournament. Special mention also needs to go to John Bracegirdle who sadly had to pull out of competing after working very hard to prepare, due to a knee injury he suffered during the British Championships.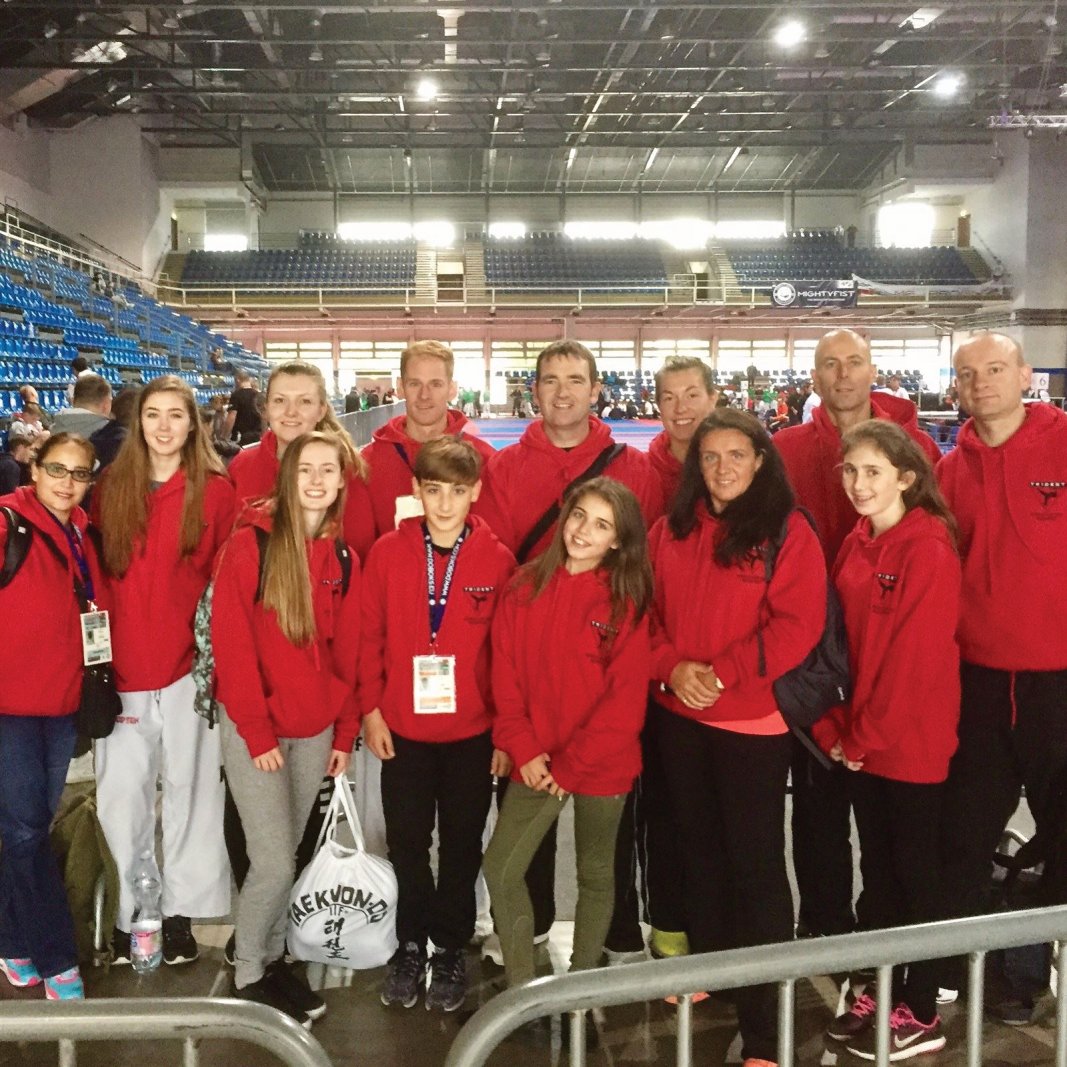 After a successful weigh-in for all competitors on 11th October they could relax somewhat whilst waiting to start competing the following day. 
The first day of the tournament was a busy day of patterns for the Trident Team and also a very successful day. The first medal of the day was won by Havva Dervish who won a Bronze medal in her patterns category.  This was Havva's first time competing at this level and she faced some stiff competition along the way. Next up was a Gold medal for Izzy Brider in her first Senior World Cup and a Gold medal for Lily Thompson, who was also competing at this level for the first time and was the youngest member of the Trident Team.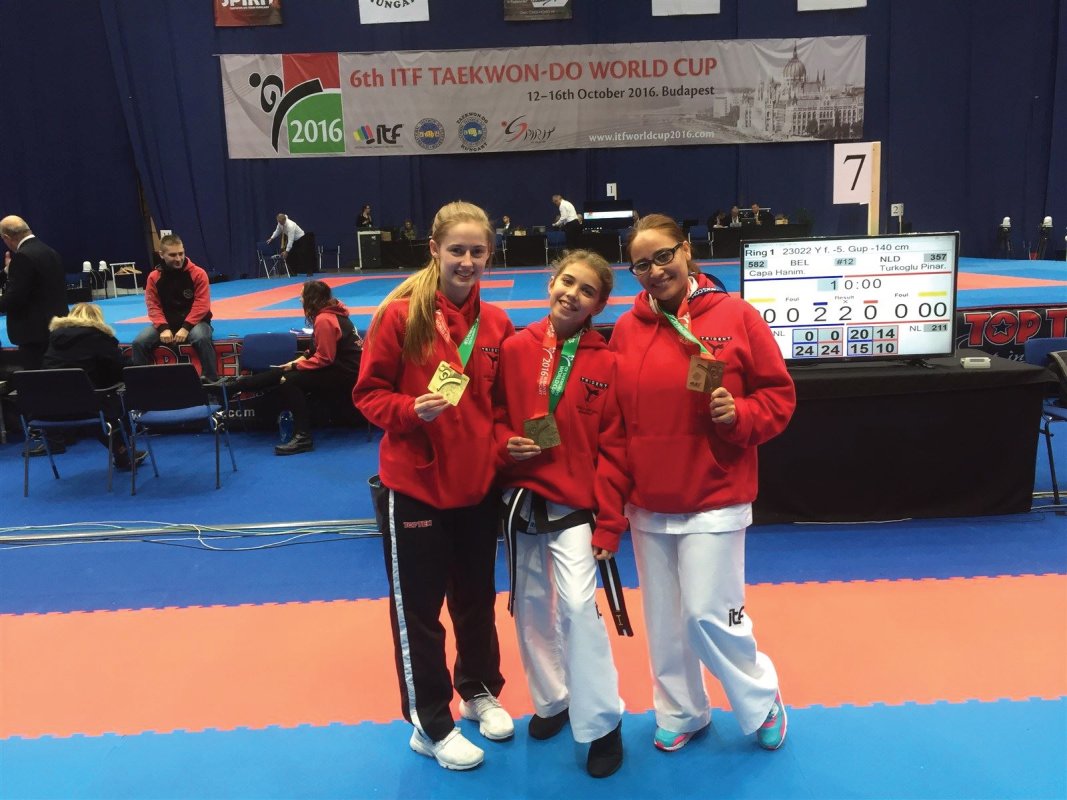 The second day of the competition saw sparring time for most of our competitors. There were some extremely tough fights, with all our competitors sparring within a very short space of time, which led to some problems with coaching and saw Mr Lee Anderson IV degree from Scotia being drafted in to assist.  Big thanks to Lee for his excellent coaching.  After some incredibly close fights, with Romy Mottershead being extremely unlucky to lose on golden point after drawing with her opponent twice, only Izzy Brider would make it through to the medal positions. Her semi-final against Miss Silvia Farigu from Italy was extremely close with a draw in the first round but she was eventually victorious in the second round to take her place in the final. It is worth noting that Miss Farigu has dominated that sparring division for quite a number of years. Sadly, Izzy was beaten by Miss Katrina Carr from Scotland in the final so took home the Silver medal. 
As the team had now finished competing they were able to relax and enjoy the sights of Budapest as well as watching some of the action throughout the rest of the tournament.  
Our award winning was not yet over though, Miss Izzy Brider was crowned joint Senior Female Overall World Cup Champion! This is a massive achievement in her first Senior World Cup and is a great reward for the dedication that she puts in. 
Congratulations go to everyone who competed, it doesn't matter if you won a medal or not, it takes a great deal of courage to stand up and compete at tournaments of this level, everybody performed extremely well and I'm sure those who weren't successful this time will have learned some lessons and will be back stronger than ever at the next event. Congratulations also to Mr Miley and all of the Instructors/Coaches who have worked hard to help prepare the students for the competition and to Mr Brider who was busy for the entire length of the tournament as an Umpire. 
Last but not least, congratulations and thanks go to the parents of the younger members of the team. Without the parents giving up their time to take students to classes and other events and supporting them through successes and failures they wouldn't have been able to step out and compete on that stage at all. 
Jayne Heywood III
Publicity Officer for the Northern Region
Categories: Competitions
/